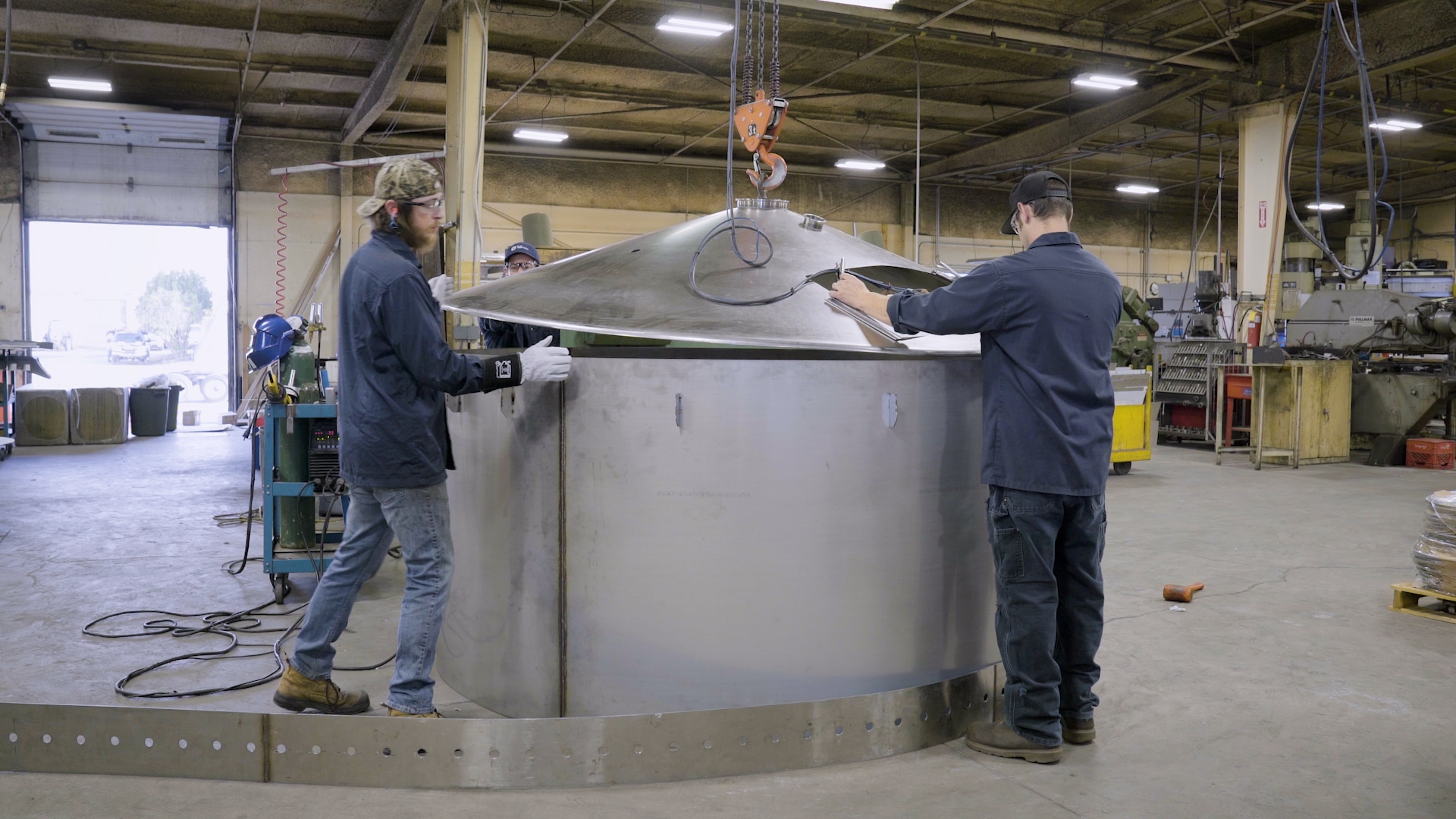 Solve. Design. Deliver.
Pure IngenuityTM specializes in providing custom designed manufacturing equipment for the food, beverage, pharmaceutical, cosmetic, and fine chemical manufacturing industries that require large scale processing equipment, stainless steel tanks, stainless steel vessels and pressure vessels. We have also applied our engineering expertise across many different fields including alternative energy, biotechnology, textiles, automotive, and public art.
Pure IngenuityTM stainless steel tanks and vessels are designed to ensure maximum hygiene and optimal cleanability. We have a wide range of standard designs that can be customized to suit your process. We have a wealth of experience designing and manufacturing:
• Stainless steel tanks
• Process vessels
• Pressure vessels
• Vacuum tanks
• Mix tanks
Pure IngenuityTM is TSSA certified for fabrication of Pressure Vessels to CSA B51.
Sanitary Piping Installations
Pure IngenuityTM Engineers and fabricators are well versed in the world of regulations such as FDA, 3A, CFR 21, and cGMP. We are TSSA Certified for fabrication of Piping Systems to CSA B51, ASME B31.1, and ASME B31.3.
Pure IngenuityTM  provides on-site installation services using hand and orbital welding. Complex piping and valves can be factory pre-fabricated to minimize installation down time.
Our clients rely on us to ensure their piping installations comply with the strictest of standards for aseptic processing, consistency, safety, efficiency and absolute reliability.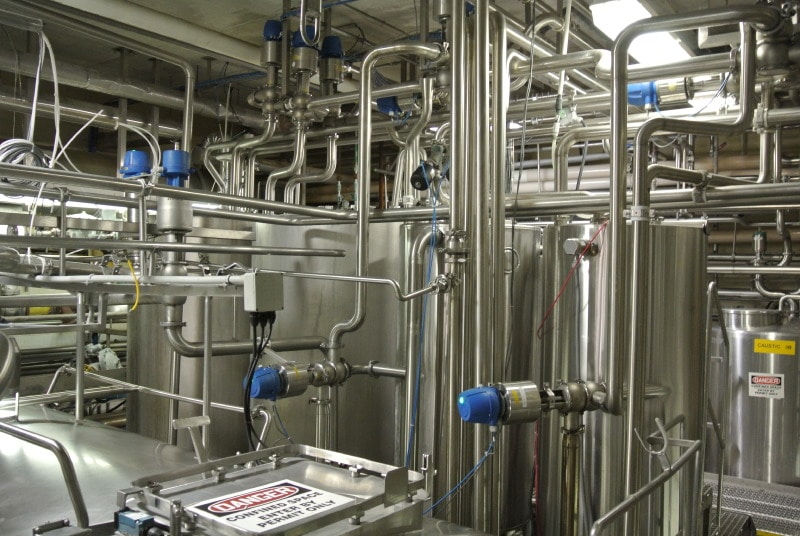 Pure IngenuityTM can design, fabricate and install a CIP system customized to your factory's specific needs.
Our engineers will work with you from the initial planning stage through to installation and startup to make sure your application specific CIP system is efficient, cost effective, and reliable.
Let Pure IngenuityTM be your partner in creating your complete brewery from the floor up. We apply our engineering and fabrication expertise to build efficient, cleanable, state-of-the-art breweries.
Our partnership with Spearhead Enterprises, Inc. allows us to continuously improve, test and demonstrate our industry leading designs.
We offer:
• Comprehensive needs analysis, project planning, and regulatory compliance
• 47 years experience in designing and building sanitary, stainless steel food and beverage equipment
• Experience in designing complete breweries from brewhouse to cellar, from sanitary piping and valves to controls, from grain handling to packaging
• Maximum hygiene and optimal cleanability across your entire brewing and CIP systems
• Experience in specifying, designing, and building steam, glycol, compressed air, electric power, water, and sewage systems
• Experience with installation including rigging, millwrighting, welding, wiring, and programming
• Controls, data acquisition and reporting
• Start-up support and training
Food Processing Equipment
Pure IngenuityTM will custom design your sanitary food processing machinery with cleanability and low maintenance costs in mind.
This candy dryer, built for a leading confectionary company, reduced line downtime, cleaning, and maintenance costs.
Dry Powder Mixing Equipment
Pure IngenuityTM dry powder mixing equipment is available in capacities from laboratory sizes to full production scale and includes:
• Ribbon Blenders
• Twin Shell "V" Blenders
• In-line Powder Mixing
• Powder Mixing Skids
• Containerized Blenders
Our V blenders are used in sanitary applications ranging from gentle blending to intensive mixing. Uniform and precise blends are achieved in short process times.
Pure IngenuityTM can design and build screw conveyors to meet your custom requirements.
• Sized for your application
• Horizontal or inclined
• Variable pitch flights
• Custom infeed and outlet
These, along with excellent fit and finish make Pure IngenuityTM the perfect supplier for screw conveyors and other bulk dry material handling equipment.
We have experience providing unique laning conveyor solutions to the food, pharmaceutical, and fine chemical industries. We work closely with our customers to ensure our designs are functional, sanitary, and economical.
• Auto tracking
• Sanitary design
• Automatically manage the flow of your product to downstream operations.
Our engineers will work with you to develop a conveyor system that is safe, reliable, cost effective to operate, and suits your specific needs.
Pure Ingenuity™ provides custom stainless steel architectural work suitable for washdown areas.
• Platforms
• Handrails
• Trim
• Window and door frames
• Bollards
• Corner protectors
Pure Ingenuity™ specializes in providing custom designed manufacturing equipment for any industry that uses machinery requiring the unique properties of stainless steel - a strong, sterile and corrosion resistant material. We also utilize various other materials, such as aluminum, plastics and carbon fiber composites - each with its own distinctive advantages - when it best suits a machine's design.